CATNIP AND SIP
Peninsula Friends of Animals invites you to our annual spring tea, fashion show and auction Catnip and Sip April 7th 12:00 to 3:00 pm at Sunland Golf and Country Club 109 Hilltop Drive Sequim WA.
Tickets are $35 and available at:
Allstate Insurance, 440 Bell Street, Sequim, or
Safe Haven, 257509 Highway 101, Port Angeles
All proceeds benefit the PFOA rescue animals and donated auction items will be gratefully accepted.
OUR SINCERE THANKS!
Peninsula Friends Of Animals extends our deepest appreciation to the Ben and Myrtle Walkling Memorial Trust for their generous $2,000 grant used to purchase a sturdy 8″x 12′ Tuff Shed Storage Unit to house our Pet Food Bank for low income pet guardians in crisis situations. These individuals can't afford to feed their companion animals and we are able to help due to donations of cat and dog food from local businesses.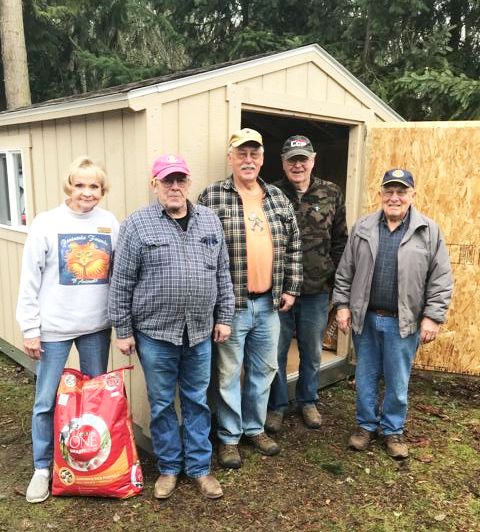 Our Pet Pantry serves a critical need in our community with 148 pet households receiving our help in 2017. PFOA distributed over 5,500 pounds of dry food and 540 cans of moist pet food to needy animals.
We are also grateful to the Sequim Sunrise Rotary Team who donated their time and skill to install the shelving in our new Tuff Shed. With their invaluable help, the Pet Pantry is now fully functional.
DONATION DROPOFF POINT
The AllstatePFO office in Sequim, located at 440 W. Bell St., has generously offered to be a drop off location for PFOA donations of toys, food, etc. If you're unable to drive to Safe Haven, please drop off your donation there.

We have an urgent need for full or queen size flat burgundy sheets.  We use them to cover our display tables at various events throughout the year.

PFOA NEEDS YOU!
PFOA has a critical need for two able bodied volunteers to set up our tent and display at local major festivals. The tent is used for the sale of our primary fundraising item – our world-famous handmade potholders. Last year, our potholder team had over $26,000 in sales. 100% of these monies are used for the care of our rescues. If you can help fill this vital role, please contact Danette Grady at execdir.pfoa@gmail.com. Thank you for helping us to help them.

Barb Watts came by after Christmas to drop off her year-end collection money from her can drives. She brought in an amazing $150.00  (compared to last year's $ 100.00) which is definitely a huge accomplishment. She said she gets 1 cent for every 4-5 FF cans! Wow! That's a lot of cans!  Besides our cans, she also picks up discarded cans from grocery stores around Sequim and Port Angeles. Thank you, Barb! 
A young man named Ephrym Morrison came into the shelter in late December to drop off donations for our kitties.  Ephrym saved all of his allowances this whole year to save up and purchase cat food and toys for our Save Haven kitties.  How wonderful is that? 
PFOA IS NOW A MEMBER OF THE CHEWY.COM SHELTER & RESCUE NETWORK

PFOA IS NOW A BISSELL PARTNER FOR PETS
Benefits to PFOA (and our kitties): 
PFOA will receive a free product from Bissell to be used for fundraising
Bissell awards grants to spay/neuter, microchipping, foster care and adoption programs
PFOA is eligible to participate in Facebook sweepstakes
Bissell will donate part of the sale of pet products to PFOA when purchasers select our organization and enter the code "ADOPT" at checkout
CAN YOU HELP OUR POTHOLDER LADIES?
… WITH VOLUNTEERS
Urgent need for volunteers to set up and take down our booth for 2018 festivals.  The sale of potholders is our primary fundraising tool, so having our booth available is critical to the success of our rescue mission.  Please contact Danette at 452-0414, ext.3.
In addition to staffing event booths, our potholder people are still in need of two more volunteers to cut flannel and insulbrite into 9 inch squares.  All you need to supply is your time, about 2-3 hours once per month.  If you can help, please call us at 452-0414 or email at pfoa@olypen.com.
… WITH SEWING SUPPLIES
Our dedicated Potholder Ladies are running low on backing fabric for the potholders.  Backing fabric needs to be 100% cotton, large enough to cut at least two 9-inch squares  and can be any design or solid color, although darker colors are preferred.  If you sewers or quilters out there have any yardage you haven't used that meets their needs, please think about donating it.   They can use regular weight sewing thread in all colors too and donations of 100% cotton quilting weight fabric, large enough to cut at least two 9-inch squares, in novelty designs such as cats, dogs, kitchen, food, nautical, wildlife, chickens, and wine & cheese.  If you can help, please call us at 452-0414 or email at pfoa@olypen.com.

T-SHIRTS ARE ALMOST GONE!
We have a limited number of "Tippy" and "Barky" t-shirts left.  Our stock is limited to the shirts on hand at Safe Haven and the remaining festivals and special events.

Meet Tippy, Safe Haven's mascot and Facebook Administrator!
Peninsula Friends of Animal's shelter and headquarters, Safe Haven, is located between Sequim and Port Angeles on the beautiful Olympic Peninsula in Washington state. We list cats, kittens and a few dogs available for adoption on a regular basis. The shelter has many wonderful cats, all with their own personalities. And right now there are some especially loving, friendly, purring pets who would love nothing more than to be a part of someone's family.
Animals at Safe Haven enjoy life in big, airy playrooms with large outdoor patio enclosures, but they all yearn for a home of their own where they can curl up in a lap and snuggle with a loving human.
Please check back often to see new animals as they become available. Just click on the "Adoptable Cats" or "Adoptable Kittens" menu item under the "ADOPTIONS" heading.
We run a monthly spay/neuter clinic for the pets of low-income community residents. Learn much more by exploring our website and signing up for monthly Pet Tidings newsletters and volunteer activities. And if you have more questions, or would like to contribute in some way, please feel free to call Safe Haven at 360-452-0414 and leave us a message.
Our peaceful pond at Safe Haven
Save
Save
Save
Save
Save
Save
Save
Save
Save
Save
Save
Save
Save
Save
Save
Save
Save
Save
Save
Save
Save
Save
Save
Save
Save
Save
Save
Save
Save
Save
Save
Save
Save
Save
Save
Save
Save
Save
Save
Save
Save
Save
Save
Save
Save
Save
Save