Call 360-452-0414 for information
These are the cats we currently have available for adoption. Cats at the top of list are the newest arrivals.
Birdy
This captivating 2 year-old miss will capture your heart when you meet her. She recently lost her mom and would love to cuddle in a lap again. Cuddly and also very playful. She enjoys other kitty friends, smaller dogs and older children. With her gentle nature, we know she'll find her forever home, with her companion, Bandit, soon.
Bandit
Bandit is a young and handsome creamy orange Tabby/Maine Coon mix. Being a mellow fellow, he loves to laze in the sun and be brushed. He's a friend to other cats and smaller dogs. Before getting comfy in your lap, he likes to get to know you by playing with the feather wand. He and Birdy arrived together and are a bonded pair. We would prefer to adopt them together – it is wonderful to have a pair of cats who already know and love each other. This is twice the love and twice the fun!
Baby Wayne
Meet Baby Wayne, a stunning long-haired tuxedo cat. Baby Wayne came from the same home as Sir Chuck, however they are not bonded and can be adopted separately. This handsome boy is about four years of age, very vibrant and incredibly easy to get along with and would be a good addition to any cat loving family. Come meet our Baby Wayne.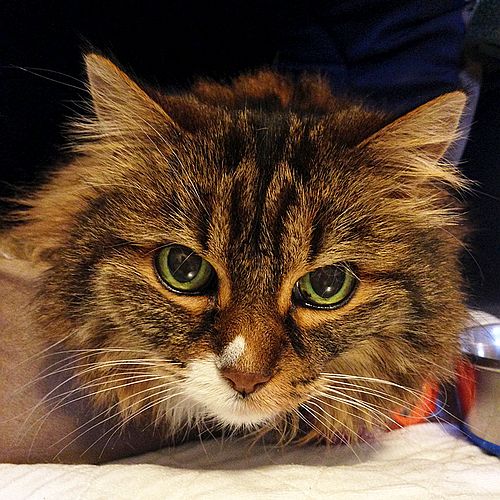 Megan
Megan is a gorgeous 17 year old Maine Coon, whom we adopted out as a kitten in 2000. Megan sadly returned to us when her "mom" passed away and her "dad" could no longer care for her. This sweet, but a bit shy girl, was exceptionally bonded to her elderly person and loved to snuggle in her lap and cuddle with her in the sewing room. She doesn't show her age at all—looking much younger than she is and getting around quite well. We would love to see this girl in a home with the same sort of love and devotion she was used to receiving……..a quiet and peaceful life with a sunny window and lots of pets where she can live out her life. If you have the love and desire to help make Megan's golden years bright and happy, please contact us for information regarding this beautiful cat. A permanent foster might be an option? Give us a call to talk about magnificent Megan!
Farley
Farley is a beautiful shorthair black kitty who was captured as part of a trap-neuter-return program. During his medical checkup he was diagnosed as FIV positive. Because he was thought to be feral, Farley was in danger of being euthanized. We heard about Farley, saw how handsome he is, and that he was not feral (just a little frightened). For the first few weeks with us, Farley was a little unpredictable. Now he has mellowed and is a very charming fellow. We are happy that we could give him another chance at a good life.
Farley is about 18 months old and very healthy. Because of his FIV+ condition, the ideal home for Farley will be as the only cat, strictly indoors. If this works for you, you will want to meet Farley. He is sleek, beautiful, and all-around pleasant company.
Minnie
Minnie is just adorable—black and white and fluffy and girly-girly! Returned to us after a few years in a home with an older couple, Minnie came back to us after health issues necessitated their giving her up. She is regaining her normal poise and happy ways, and we hope that you will be willing to give this sweet girl another chance at a forever home. After three adoptions, Minnie is starting to lose hope! If you can provide the loving, gentle care that Minnie yearns for, you will be rewarded with a lifelong friend. Give us a call if you are cat savvy and would like to give Minnie her own Holiday miracle—a home where she will never be given away again!
Spanky and Spatzi – bonded siblings!
These two boys, while not brothers in the strictest sense of the word, are very bonded to each other. Spatzi is a beautiful Siamese mix, and his companion of the last ten years is Spanky, a very handsome tuxedo cat. These are two of the gentlest souls you will ever meet. They are the text book example of well-behaved, loving cats. Spatzi is the more outgoing of the two, often greeting you at the door with a friendly meow and a leg rub. Spanky tends to be more laid back, often lounging in a bed or cat tree. He is easily approachable and loves to be petted and fawned over. Come and meet these two handsome boys and you will discover their purrfect personalities for yourself!
Quinn
Quinn is Blay's sister – she was also adopted from PFOA as a kitten in 2012. She is an all-white shorthair with the most amazing eyes – one is blue and one is green. She is slightly shy, but is a total love bug. She loves nothing more than to get attention and find a comfy place on someone's lap.
Max
Max is a wonderful, all-black senior kitty who looks and acts like a young adult. He came to us with IBD, which is now under control with a change in diet and some exercise. He is very affectionate, loves to give head butts and purrs and kneads his paws when he is getting his much-desired attention.
Cookie
Cookie is a very friendly and affectionate black and white "cow cat". She was a stray who found a home with an elderly gentleman. Her "dad" recently passed away, and Cookie was brought to Safe Haven to find a new forever home. In spite of losing her home and her person, she has quickly adjusted to life at the shelter, and seems quite comfortable with her new surroundings. She is fast becoming a favorite with the staff and volunteers. She loves being petted, and will give head butts to whatever is handy – the person petting her, the wall, the floor – you name it! She will make some lucky person a wonderful companion.
July
July is a very nice little tortie who was returned to us when her caregivers could no longer take care of her. She was adopted from PFOA about six years ago. At about eight years of age, she has developed arthritis and has some significant back pain. We are giving her several medications to help with the pain, and her mobility has improved somewhat. We have her on a high fiber special diet, which she will probably always require, along with medications to keep her relatively pain-free and healthy. She would be perfect for a single cat home and for someone who wants a very low key cuddly cat. July wants nothing more than to curl up in an easy chair with her special person, and happily purr away.
Abigail
Abigail is a beautiful 4 year-old brown tabby, not quite height-weight proportionate. She could stand to lose a few ounces, and we have her on a diet to help her do just that. She is quite a character, as her photos indicate, and has a mind of her own – she knows exactly what she wants and when she wants it, and will not hesitate to make her wishes known. She loves heights – her favorite place is the top of the tall cat tree in her room. She also loves being on her back, with her head hanging over the edge of the cat tree. If you like independent cats (and have a tall cat tree), Abby may be the gal for you!
Leo
Leo is a HUGE fellow—long, tall and solid, he tilts the scales at 22 pounds! Leo came to us from another shelter where his feisty attitude had put his life in jeopardy. He had been nippy with a young child in his home, and had a propensity for smacking staff who were cleaning his cage. We have found him to be a good boy—while he can be overly stimulated, he is a really nice cat. He should be adopted by folks who are cat savvy and not intimidated by a big cat with a tiny bit of attitude. If you want to meet our Large Leo, please give a call!
Lexi
Lexi is a gorgeous long haired tortie – smart, funny and full of attitude. She is such a joy to be around. Friendly and affectionate, she loves to be the Queen Bee and would prefer to be the only cat in her new home. Lexi is a 12 year old in good health. She is a full-sized girl and will be a wonderful lap cat and interactive companion. If you can provide Lexi with a loving home in a single-cat environment, please give us a call; we would be pleased to show you this special girl.
Lucy-Alice
Lucy-Alice is an adorable, outgoing little short-hair calico mackerel tabby Manx with a white bib and green eyes. Born in October of 2010, Lucy-Alice was originally adopted from Safe Haven as a kitten. She returned to Safe Haven in March of 2014. She is very sweet and loving, craves attention, and is a gentle soul. She did not display symptoms of Manx Syndrome, a condition affecting many Manx cats, until she was a year and a half old, and her issues are relatively mild. She loves having visitors, and thrives on the attention readily given to her. She is such a sweetheart and so full of love for people that it's hard to leave after spending time with her. Lucy-Alice would really like to be in her new forever home – will that be with you?
Sir Chuck

~ ADOPTED!
This is Sir Chuck, a handsome tabby with white feet, chest and underbelly along with a distinctive beige marking on his muzzle. Sir Chuck is 8 years of age and has a gentle likable personality. His former caregiver passed on and now Sir Chuck is with us seeking his new forever home. In his former home he lived with four other cats so it would seem that he gets along with other felines. His behavior with our staff indicates that he is very fond of human company. Sir Chuck is an all around great cat that you will want to meet.
Blay

~ ADOPTED!
Blay is a beautiful all-white medium hair girl. She was originally adopted from us as a kitten in 2012, and went home with her sister, Quinn, and her mama, Luci. Her person recently lost her home, and could not find a rental that allowed cats. She was forced to return them to us. Her person tells us that Blay is a real love – she loves everyone. She is curious and loves attention. She has no problem meeting new people, and even does well with dogs.
Bluebird

~ ADOPTED!
This beauty is Bluebird; she is about 8 years of age. Bluebird has medium hair and blue point coloration, except for her foot pads which are pink. She is one very sweet and friendly girl and is going to make some lucky cat fancier very happy. Come and meet this most charming little gal.
Juliette

~ ADOPTED!
Juliette is a dark tabby, about six years old. She is a sweetheart and she was rescued from under an overpass by her former caregiver about two years ago. She has a very unusual sounding meow, and with the right person she will cuddle and purr the night away. She arrived at Safe Haven with Gigi. Both of these girls are friendly with dogs, chickens, and kids. Their caregiver unfortunately had no choice but to find a new home for them due to her living situation. We are very happy to be able to provide Juliette and Gigi with a safe, comfortable and loving place to stay until they find their new homes. Both of these girls will make great companions for anyone young, old, with kids or without. They have lived in an apartment in Seattle and they loved the indoor lifestyle, so they are adaptable to pretty much any cat friendly living situation.
Gigi

~ ADOPTED!
Gigi is a calico/tabby mix, just under 3 years old, spayed, friendly, and up to date on shots. She arrived at Safe Haven with Juliet. Both of these girls are friendly with dogs, chickens, and kids. Their caregiver unfortunately had no choice but to find a new home for them due to her living situation. Since Gigi was her very first pet it broke her heart to have to give her up. We are very happy to be able to provide Gigi and Juliet with a safe, comfortable and loving place to stay until they find their new homes. Both of these girls will make great companions for anyone young, old, with kids or without. They have lived in an apartment in Seattle and they loved the indoor lifestyle, so they are adaptable to pretty much any cat friendly living situation.
Frank

~ ADOPTED!
Frank, a beautiful longhaired flame point, lost his home when his elderly caregiver took a fall and will not be able to return to his home. The home has been offered for sale, and Frank cannot accompany his caregiver to his new place. Frank is about nine years old. He has a quiet, gentle disposition, and loves to be petted. He gives great head butts in return for just a little attention. He will be a wonderful addition to the right home. Please come and meet Frank, and perhaps give him a new home.
Paisley

~ ADOPTED!
Paisley is such a friendly, happy little girl. She has a beautiful soft gray and white coat. Her favorite thing is to entice visitors to sit down, so that she can crawl up on their shoulder and snuggle. Originally adopted in 2016, she was recently diagnosed with diabetes. She was returned to the shelter when her adoptive parent was unable to care for her. She's adorable, and will make a wonderful companion to some lucky family with the skills and resources to care for this special needs cat.
Fletcher

~ ADOPTED!
Fletcher is a beautiful young black cat who is very friendly and came from Friends of Forks Animals. He is hard to photograph because he is so friendly.
Charlotte

~ ADOPTED!
Charlotte will draw you into her web with a charming face and gentle ways. A young kitty probably three or four years old, Charlotte is a pretty, friendly girl who loves to curl up in your lap and gets along with other cats. Found as a stray west of Port Angeles, she is happy to be spending the winter in the warm safe shelter of Safe Haven. We are so happy to welcome Charlotte, and look forward to finding her the perfect home. If you want a charming companion to share your lap this winter, Charlotte is just the girl for you!
Spooky

~ ADOPTED!
Spooky came to us with his brother, Spike, after their owner lost her home and sadly, had to give up her three cats. Spooky is eight/nine years old and is just a lovely cat with his longer fur and pretty green eyes. Very friendly and affectionate, Spooky is a real joy. He is kind and unassuming—just waiting for the right person or couple to welcome him into a secure new home where he will be cherished for the rest of his life. If you have enough love in your heart to share with his deserving boy, please give us a call today to meet this special guy. You won't be sorry you did! Vet checked and ready to go, he would do well in a quiet loving home where he will never have to worry about moving again.
Sydney

~ ADOPTED!
Luci

~ ADOPTED!
Luci is the mother of Blay and Quinn, and was adopted with them in late 2012. She has no problem letting them know that they are princesses and she is the cat who would be queen. Like her daughters, she is a beautiful all-white cat with golden eyes. When it comes to people, Luci is very lovable. She will mark you heavily with a cheek rub and roll about in a playful manner. She absolutely relishes any loving you give her and will reciprocate in kind. Because of her royal status Luci would be happiest with a family she could have to herself. She would probably accept other pets just so long as they recognized her royal status. Perhaps it is time for a feline monarchy in your home! Come meet this benevolent and lovable royal girl.
Fatty McCatty

~ ADOPTED!
F. McCatty is one of the coolest cats ever!! With his bright blue eyes and gorgeous creamy and orange fur, this Flamepoint Siamese is as pretty inside as he is outside. Easy going and laid back, this guy rolls over on his back, rubs on your legs, and just generally does anything and everything he can to attract love and attention. Brought to us after living as a stray in a Port Angeles neighborhood, this fellow is VERY happy to be rescued and living the high life at Safe Haven. If you want a BIG mellow fellow who wants to be the center of your world, call us to meet this exceptional cat—you will be glad you did!!
Bunny and Clyde – bonded siblings!

~ ADOPTED TOGETHER!
Adopted from us with her brother when they were kittens, Bunny is soft and shiny black and shy. She is also sweet and affectionate and friendly once she gets to know you. Returned to Safe Haven when her "mom" passed away and her "dad" had to move, she and Clyde are looking for a home where they can live out their lives together! Only three years old, this pair would be a delightful addition to a quiet and attentive home where they would be the only kitties.
Clyde, as his name implies, is a bold and beautiful black boy. He is quite outgoing and loves to explore and greet visitors. Not at all fazed by the many changes in his life, Clyde comes out with all guns blazing and ready to take on the world. He is also gentle and loves attention and lap time. If you want a pair that will bring you many years of joy and fun, please consider taking a look at Bunny and Clyde.

Kit Carson

~ ADOPTED!
Kit Carson is a handsome orange tabby with white trim who has two extra digits on each of his front feet. This boy exhibits behavior indicative of a cat removed from his mother too early where his cat sense and manners are not as good as they should be. His behavior is unpredictable when meeting new people or in a new environment. On the other hand, many volunteers as well as staff members have held him in their laps, petting him while he contently purrs away, sweet as can be. His ideal family would be very cat-saavy, able to read cat body language and respond to his needs.
Neilly

~ ADOPTED!
Adopted from us as a kitten, twelve year old Neilly was returned when her military family was transferred to a location where they couldn't take her with them. While another family member stepped up to foster Neilly, she, unfortunately, didn't get along with another cat in the home, and came back to Safe Haven. Neilly is just a joy with people—she kneads and rubs and literally turns herself in circles when petted and shown attention. But, she has proven to be quite the naughty girl with her roomies. She has an entire room of younger and bigger cats absolutely intimidated—her fave is to put a run on whatever unfortunate cat she sees in the litter box! So, Neilly needs a home where she is the only cat and doesn't have to compete for lap space or affection. If you are looking for a loving and feisty ginger girl to be your ray of sunshine on a cold gray day, please come and meet our Neilly!